Andrew uses quality gear to deliver a great sound which is clear, punchy and has a strong bottom end.  Here is a list of gear that Andrew uses:
Lakland 5 string Skyline Series active bass. Andrew's main bass and most versatile bass. This 5 string active bass with a killer B string shines in pop, modern rock, metal, gospel, funk and r'n'b.
Mike Lull P4 – The best quality Precision bass! Andrew's default recording bass
Fender Jaguar Fretless Bass with jazz pickups. This is a one of a kind fretless jaguar bass. A fretless bass works really well for ballads, pop, jazz, world music and Christian music. It provides a unique tone which is great for bass melodies.
Fender Precision Mike Dirnt telecaster style bass. A fender precision bass is THE standard bass sound in the industry. It sits perfectly in the mix with the bass drum and is the most recorded bass sound in the history of music. Fitted with a tonestyler tone control, and has an added jazz pickup in the bridge position for added versatility and tones.
1983 Ibanez 4 string Roadstar II Precision style bass. This has been restrung with flatwound strings. You can't beat an old p-bass with flat wound strings for an old school sound! Suitable for soul, rock, pop, reggae, jazz, blues and latin. The Roadstar is also fitted with a bass-mute to dampen the strings which can simulate an upright bass sound.
Fender short scale Bronco Bass – Restrung as a piccollo bass. This bass can be used when recording to double a lower bass part 1 octave higher like an 8 string bass. Also sounds great palm muted with a pick to add depth to a standard bass track. Fitted with Roland's GK3 synth pickup to use with the Roland V-bass effects system.
Andrew uses Mark Bass amplification exclusively and has a local endorsement deal through CMC Music. Their amps and speakers provide a full range powerful, transparent sound. Made in Italy to high specs, these amps are top quality. Also light and portable so Andrew can take these anywhere.
Markbass Momark 800 watt modular head with tube preamp x2.
Markbass Traveler 102P x2.
Markbass STD 102HF Box x2
Markbass Mini CMD 121P Combo Amp (used at Christian Life Centre).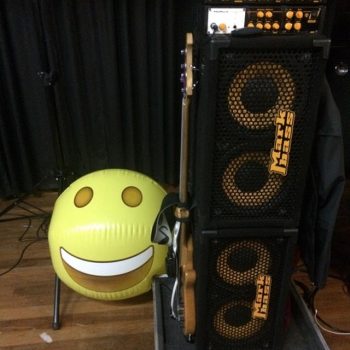 Stompboxes: Andrew uses a variety of stompbox effects to add colour and versatility to his sound. All effects are have quality analogue sound and are used sparingly so as to add to Andrew's tone rather than detract from it.
Aguilar Octamizer – reproduces a note 1 octave lower than what you are playing.
Aguilar Filter Twin – Adds some funk to Andrew's sound.
Tech 21 VT Bass – simulates classic ampeg tube amps in particular the Ampeg SVT.
Tech 21 Bass Boost Chorus – a chorus pedal and a bass guitar is a great mix, particularly with Andrew's fretless bass. A very versatile pedal.
Markbass Compressore – a studio quality tube compressor.
Markbass Superbooster – functions as a boost pedal for solos, a DI, and contains Markbass's famous EQ filters VLF and VLE.
Chunk Systems Brown Dog Fuzz – a gated bass fuzz. Can be used in conjunction with the Octamizer and Filter Twin to create some great synth sounds.
3 Leaf Wonderlove – The envelope filter for that 70's sound
Lehle Little Loop – keeps effects out of the signal chain when they're not being used.
Lehle Parallel Mixer – allows Andrew to keep two basses plugged in, and easily switch between them at gigs.
Sonic Research Strobe Turbo Tuner – super accurate stage tuner.
EV Volume Pedal Junior – great for controlling volume on stage quickly and easily.
Pedaltrain 2 – pedal board that houses all Andrew's pedals.
Voodoo Labs Power Plus 2 – powers most of Andrew's pedals and mounts under the pedal train. Eliminates and interference or hum as each power source is isolated.
Boss RC-50 Loop Station – Andrew uses this to loop percussion (shakers, tambourine, stompbox etc) for gigs for his duo A-LiVE. This setup is also available to singer songwriters if they want to hire Andrew for an acoustic gig.
Recording Gear And Software
Logic and Pro Tools
Mac Computers – If you're a musician you need a mac.
Sibelius Ultimate – Music notation software for lead sheets, chord charts, and notated bass lines.
Accessories:
Wazinator Stompbox – simulates a bass drum sound. Andrew uses this for duos and acoustic gigs.
Gramma Isolation Riser – raises Andrew's amp off the floor and prevents unwanted bass frequencies from vibrating through the stage.
Custom instrument leads from Paul @ Turramurra Music
Custom speaker leads from the Bass People Shop in Annandale
Fulltone patch leads
DR Strings 45-125 for Lakland
Fender nickel strings 45-105 – for Fender P-Bass, and Fender Jaguar
GHS Flatwound Strings 45-105 – for Ibanez Roadstar
Warwick Rock Bag – Gig bags for fretless Jaguar and Ibanez Roadstar
Hiscox Hard Cases – for flying
Hercules Instrument Stands
Boss Tuner / Metronome
SRV Colonial wide leather instrument straps
Schaller strap locks
Fender extra heavy picks